Thanksgiving 2003
Hopefully everyone had as good a Thanksgiving as our family did this year. The food was good and overall the kids behaved. Our family just seemed to blossom... it doesn't seem like too long ago that my siblings and cousins and I were the kids--now the real kids outnumber us. The times sure do change.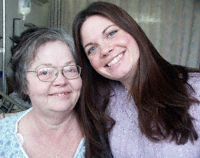 The strangest thing for me, though, was having Thanksgiving without Mom. Her absence was very disturbing, and I keep trying to picture her smiling during past Thanksgiving dinners. While I am very saddened by her loss, at least I can be thankful for all the good and warm times she shared when she was here. And I certainly miss her pies--her pumpkin pies were exquisite, and her raspberry pies are truly missed (my attempts to copy her recipes always come short of success).
I hope that everyone remembers to enjoy the time they have to share with their friends and family. Times change, and it's always too easy to take for granted our time together.
Another change that will affect me is the final Cringe show. All rock fans in Central Ohio on December 19, 2003 ought to come out for this show. It will be your last chance to hear Cringe live.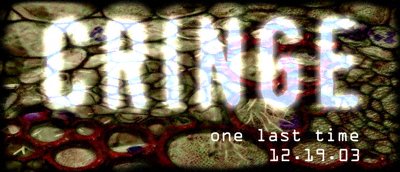 Have a good week. Shawn
The official Creative Arts Newsletter series.

Thanksgiving 2003