Shawn Olson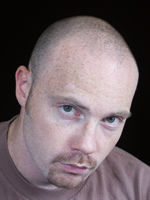 Art was always around me growing up. My father Donald Olson was a multi-talented wildlife artist whose skills and insight greatly influenced me over the years. Dad was a beautiful man full of love and compassion--and I try to share with my family, friends and fellows the joy of nature he shared with me for decades. Dad, along with his best friend Harold Pennington, deeply affected my approach to life. My other great influences have been John Dewey, Thomas Jefferson, Carl Sagan, Bruce Lee, Michael Jordan, Stephen Covey and Robert Fulghum.
I've spent most of my adult life working as a freelance writer, photographer, web developer and 3D artist/programmer. I spent nearly three years as a staff writer for the Columbus Messenger Newspapers. After that I spent a decade developing database-driven web applications; since 2010 my main focus has been developing 3D scripts and plugins for 3ds Max. I'm most widely known for developing Wall Worm for 3ds Max.
When I try to describe myself, phrases like "jack-of-all-trades", "inquisitive" and "analytical" come to mind. Trying to learn something creative and new everyday is one of my little quirks... as is trying to teach something to others.
I am the father of five kids.
My professional experience includes journalism, 3D (design, programming), photography, web design, graphic design, web programming and product management.
If asked what my most important characteristics are, my answer would be as follows: I am very diverse in interest and understanding, and I have a well-refined ability to bring together seemingly unconnected fields to find solutions and innovations. I am naturally skeptical, analytical and inquisitive.
My mission in life is to to learn as much as I can in the time I have; to raise warm and intelligent children; to leave something of value for this world that wasn't there before I came along.
My Professional Skills
Product Management

I spent several years managing the development of Wall Worm before coming to Autodesk. I now work as a Product Owner for the product management team for 3ds Max.

3D Generalist

I started dabbling in 3D around 1998. As a hobbyist, I built several maps for the game Counter-Strike before changing focus to building levels and models for Counter-Strike: Global Offensive and Black Mesa. Since 2015 I've been a technical artist for the game Black Mesa. In 2016, Autodesk gave me Expert Elite status. Some of the software I've become expert in include:

Web Development

The majority of my work between 2003-2012 was web development. I have experience in every facet of web development, from the back end to the front end. A list of specific skills:

XHTML/HTML5
CSS
JavaScript
PHP
MySQL
Web Graphics

Journalism

I was a beat reporter for a few years. My articles have appeared in magazines and newspapers in the Ohio region. Some of the publications:

Photography

I have been photographing my entire adult life. I started on 35mm but moved to digital cameras in 2001. Over a thousand of my photos have appeared in newspapers, magazines and college textbooks. I currently shoot with a Canon R5 and a Canon 6D Mark II.
Other Skills
Cartooning

Although I've been paid for a few cartoons, I don't consider it a professional skill as it's mainly a hobby.

Maze-Making

I've always loved drawing mazes. It's mainly just a hobby. Some mazes I've made have made their way onto apparel, live theatre promotions and even the cover of the Sandiego Reader.