The Cringe Phenomenon
Last Updated
Oct 31, 2011
When the critics hail Columbus as the backwaters of entertainment, all you need to shut them up is point your finger at a hot young band called Cringe. They've already got two self-produced albums out, and the moment you put Animation into the CD player and press play you will close your eyes and go for a musical journey that will convince you that Cringe is anything but local.
But they are local… for a little while at least.
The concept of Cringe formed when current drummer Mat Marcum started a band called Wicked while still in school. Names changed furiously over the next few years, from Leviticus and Metal Forium, to Screaming Angels, Cake & Sodomy to Lucid Dreams.
The members changed just as quickly. It wasn't until Tom Cline joined on vocals (though originally he joined as a guitar player) that the band now known as Cringe truly came to be. Ryan "Butch" Butcher joined early. Marcum's friend Ryan Wilder joined with keyboard and classical aspirations. The band finally coalesced with Jae on guitars, Cringe became official when they literally pulled their name from suggestions in a hat.
Marcum said, "The first one I pulled I couldn't read." Then popped up Cringe from a list that included "Cryptic", "Cynical" and more names beginning with "C".
"I feel like our name gives people misconceptions," said Cline. Lamenting the association of the name with the dark side of humanity, Cline said, "We're not an evil band. Really there's not an evil side to our music."
Not evil, but there is certainly a sense of aggravated emotion in Cringe's music. Perhaps it didn't show up so well in the first album Systematic. All members wince when you mention Systematic… they claim the music was too discordant, too haphazard, too "juvenile". Cline doesn't even own a copy anymore, as if he's trying to forget the fact that it was ever made.
"It's not that I'm ashamed of Systematic," said Cline. "It's just that we've grown so much since we made that album."
It's true that if you listen to Systematic and Animation back-to-back you'll marvel that they were written by the same people. So what happened?
"Age helped out a lot, age and experience," said Marcum.
"Plus we started figuring out hooks." added Wilder.
They figured out something, because even people who don't stray deeply into rock can't help from being mesmerized when listening to Animation. The songs combine an entrancing mixture of melody and emotion like few collections of music can. And it doesn't all come from a single source. At times Cline's voice takes you on a ride through a tale of doubt and distress, accompanied by Wilder's eerie synthesizers that insist you are living someone else's life.
There are fans out there who insist that nothing could surpass the musical perfection of Animation. The members of Cringe only shake their heads and smirk. Everything evolves, they say, including Cringe.
Writing songs for their third album Cringe has been wrestling with its maturing view of music. Constantly Cline reminds the other members of need to keep the sound "musically" appropriate. That may seem self-evident, but in an age where anything can pass as music it certainly sets the group apart.
Looking for grandeur in the sound, the band almost seems more symphonic in the classical sense than like a rock group, where composers led audiences on valiant and heart-felt journeys of triumph and tragedy instead of pouring out repeated and mindless rhymes onto monotonously looped beats as is prevalent in too much modern music. Moving and emotional is the best way to describe the Cringe phenomenon.
Wilder explained that Cringe's mission to get signed by a record label requires some new direction that the next album will take. But he denies it means the band is selling out. Of course Cringe wants airtime on radio stations, but getting there is a goal rather than a means to make music. "If we were writing for the radio then we'd be playing pop and country songs because that's mostly what's on the radio."
Cline quickly added, "It's not logical to me to make a career out of music when you're not writing music that the everyday music fan will like."
Focusing on radio time and record labels isn't the biggest change to Cringe's approach, though. Wilder, Butcher and Marcum snapped to explain that the addition of Thomas Corbin on guitars a year ago has added a new element of zest to the band, a dynamic energy that the band needed.
"The main thing," said Cline, "is that we're just trying to mature as songwriters and musicians."
The maturation is evident to anyone lucky enough to be on hand to preview some of the songs already finished for the next album. "The delicate side of the demons I hide/Will lead you to see what's been changing in me," sings Cline in "My Resolve". "My failures behind me…" Only time will tell for sure… but if anyone has a good chance of putting past failures to rest it's this hot band.
If nothing else can be said about Cringe it's that no matter how well you love or hate its genre of music… one thing will always hold true—Cringe has become a group of musicians who will make sure you feel their music. No matter how hard you try to resist the echoes and chorus and beat, you will listen to Cringe and feel the hearts of its authors. And that's the mark of truly beautiful art.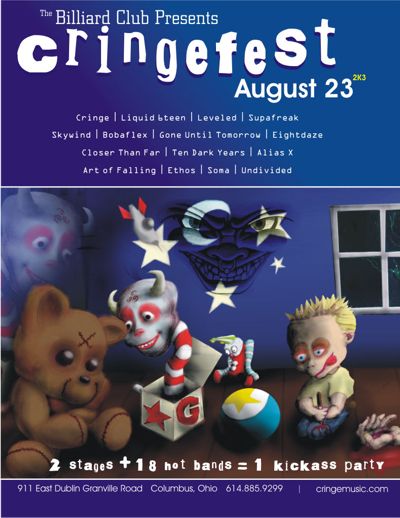 All Cringe (and local rock) fans are eagerly anticipating a taste of the new songs that Cringe plans on debuting at Cringefest… an all-day outdoor show at the Billiard Club on August 23. Packed with a complete lineup of the region's premier musical talents (including Liquid 6teen, Leveled, Bobaflex, Skywind, Eightdaze and twelve more)… the day promises to be an exhibition of entertainment and music that will definitely prove that Columbus does have something entertaining and exciting to offer. For more information go to http://cringemusic.shawnolson.net.
---
This is the full version of an article in Now It's Dark Magazine. The Cringefest graphic is an unofficial design I did for Cringefest, based off a sketch by Brett Prince (from Bootleg Tattoos); the joker face on the wall is from a tattoo artist named Julie (from Bodystain Productions).
Photographs of Columbus rock band Cringe, including interviews, live concerts, promo shots and practice photos. This is the largest online collection of Cringe photos.

The Cringe Phenomenon