January 1, 2007 Newsletter
Last Updated
Nov 11, 2011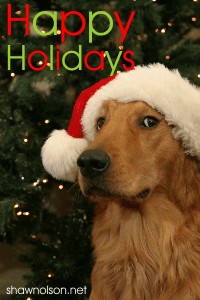 I wanted to take a moment to wish everyone a Happy New Year. I intended to do a Holiday photo shoot of my dog Dewey to send out a holiday greetings… but I did not get around to that this year. So I am including an older shot of Dewey.
There is a new video segment of a Pallas Cat on the same article published in the last newsletter, as well as some bee photos (that I shot last summer).
In news, I have received a draft of a lawsuit from a company that claims I am defaming them. There is a link below to an article on that issue. The gist is that the company wants to sue me for $7 million. I think it is simply a scare tactic.
Finally, all clients who are using Webonizer should take note that I released a new version over the weekend that patches a small security hole. The hole has never been exploited, but it would be a good idea to upgrade to the latest version.
Happy New Year!
Shawn
Newsletters published and mailed in 2007.