The Giant Saguaro Cactus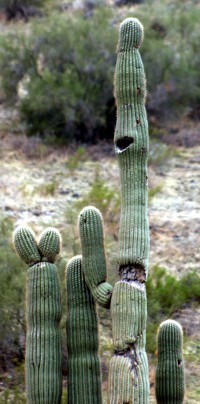 In the areas where the saguaro live, I was mesmerized by the height and shapes of this exotic plant--The Giant Saguaro Cactus. By some accounts I have seen online, this living wonder can grow as tall as 60 feet, though most sites give a maximum height of 50 feet. On our hike through the Estrella Mountains we found one we estimated to be around 30 feet high.
According to some sites, the saguaro cactus can live to more than 250 years.
While most of the saguaro we found were in the Sonoran desert, I did shoot one on the edge of a remote canyon where there were no others I could see for miles.
More Saguaro Links
---
A couple photos on this page are of other cacti in Arizona that I originally misidentified as young Saguaros.
Photos of a trip I took to Arizona with my two oldest sons.

The Giant Saguaro Cactus