Donald George Olson died at 72
Some memories and thoughts about my Dad
Last Updated
Apr 27, 2013
My Dad was born into a different world than the one in which I'm raising my children. He was born into a borderland—both in space and time. He entered this world in 1940 while the world was raging with war. He was born into the death throes of the agrarian age; by the time he died in 2013, the world had become more cosmopolitan. He lived through the birth of the atomic age, the space age and the computer age. With his death ended some ties to a different time and place. That is what I want to share.
Donald Olson grew up in border between two vastly different landscapes—the border itself being a third and distinct locale. His parents George and Josephine Olson had a section of land at the base of a large hill in a region the local Native American's had called Ta-Ha-Kouty—The Place where they Kill the Deer. It is now known as the Killdeer Mountains in Dunn County, North Dakota.
George raised chickens, pigs and cattle. It was the farmer's life. But it wasn't necessarily tough, as Dad remembered it. It was just a farmer's life, quiet and simple. Dad had an older sister Beverly and later had another two sisters and three brothers: Duane, Janice, Larry, Bonnie and Jim.
During his younger years Dad helped with the farm, feeding chickens and tagging along with his Dad. The life he lived was filled progressively with feeding cattle, raising clover to cultivate into hay, working on John Deere tractors, hunting and hiking. He loved to hike the hills.
As a young man he often hunted local animals for a bounty. The animals that were considered vermin of the time were magpies and bobcats. At the time the magpie was a common bird—similar to a crow but with a black and white body. He might have used the money to go to the movies in town on the weekends. Later in life he felt strongly that exterminating animals for bounty was wrong. When we last visited North Dakota in the early 1990s, we could not find a single magpie.
---
The Killdeer Mountains divide two worlds. To the West are the rugged and desolate Badlands. There the landscape is a gulf of gumbo dirt hills and valleys painted in horizontal layers of tan, brown, beige and a little rust. The cracked ground is littered with Micah, a brittle clear mineral that flakes easily. Rattlesnakes bask on rocks or cool under the Yukka plants. Ancient forests stick out of the ground as white and orange rocks, petrified by the ages and half crystal now.
The Badlands are both beautiful and desolate. And you can see them from the summit above the Olson farmhouse when you look West.
But if you turn to the East, there is an entirely different world. There was that vast ocean called the Prairie. In this section of North Dakota, the Prairie is very hilly. There are few natural trees except along creeks. For the most part, the trees you see there are probably planted by farmers as wind-breaks.
This vast sea of rolling grasslands is the home of prairie dogs, coyotes, meadow larks and pronghorn Antelope. In the past herds of bison roamed here, but now only as disappearing skulls. White-tail deer, black-tail deer, burrowing owls and jackrabbits inhabit this place. In the Spring it is green and lush with wildflowers. By mid-summer it begins to turn brown.
My Dad loved this place. He loved to hike the Killdeer Mountains, which did have many trees compared to the surrounding landscapes. The life of a farmer was bred into him; the love of nature was a deep part of my Dad.
---
Dad entered the military in the early 1960's. He did not serve a full term. He rarely spoke about this time to his children except to talk about some of the wildlife he encountered in Panama or the clocks he saw in Germany.
It was some kind of breakdown during his time in the Army that my Dad turned to religion. What happened exactly is still a mystery to me. But he told his sister Bonnie that he had been reborn. He joined a church called the World Wide Church of God that followed the teachings of a man named Herbert Armstrong. For the rest of his life, Dad strove to become closer to God. Understanding the Will of God and cultivating a personal relationship with God became the primary motivator in his life.
Through his church he met Donna Himes. She was from Central Ohio—over a thousand miles from Dad's childhood home. Although they came from entirely different worlds, they shared the same faith. They married and started their family in Mandan, North Dakota which is where they lived when I was born.
Mom and Dad moved to Grove City, Ohio before I turned two and there had Faith. A few years later came Eric.
Mom and Dad loved many of the same things. They both loved nature and farming. Both loved to take the children to parks and hike. They planted flowers together. Their greatest challenges were finances and communication—Dad coming from a very remote wilderness and Mom from a fairly urban world—but they overcame those problems through love, shared faith and compromise.
Dad struggled to fit into life in the city. His entire set of skills and experiences were not very useful in Columbus. The skills of birthing cattle, stacking hay, hunting and repairing fences were not demanded in Ohio as they were on the ranch. He never was able to really find his own down here; with that came financial struggles for which he often felt shame. A car accident that damaged his back made it even more challenging for him. While his family never went hungry, there was rarely any excess.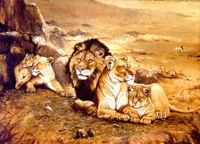 Dad did have some jobs. But nothing really stuck... and I can only imagine that the sacrifice my mother gave for a life with little money was matched equally with that of my Dad who forever drifted from occupations that never fulfilled his dreams and heart. He worked shortly as a draftsman and in a bicycle shop. He spent time at Scioto Ceramics, which was probably the only regular job he had that suited his creative skills—as Dad was an accomplished sculptor and painter. But even this lacked satisfaction, as his heart was into wildlife but the market wanted fantasy art.
In time Dad became close friends with Harold Pennington. It was with Harold that Dad finally found satisfied employment. It wasn't a regular job. And the work was not dependable—some times there was plenty and sometimes there was nothing. But at least Dad could utilize many of the skills and mentalities he had grown up learning; together, Dad and Harold performed odd jobs that ranged wildly. Scrapping metal, repairing buildings, destroying buildings, taking down barns, fixing bathrooms, cutting down trees, hauling trash... the jobs were always varied. Dad enjoyed the work and loved Harold. They often took me and Eric along on these jobs.
Life went on and the family grew older. Dad's younger brother Larry died. His parents both died. Clarence, mom's father, died. Then in 2003 Mom died.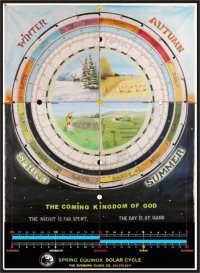 Dad survived these losses by clinging to his faith. He had always spent a lot of his time in his study room reading the Bible, praying, studying chronology and working on his almanacs and calendars. After Mom died, he continued his study of calendars. He worked on them daily until a few months before he died.
When we moved Dad in with us in 2012 Dad was starting to be a little more sombre than before. He had developed cancer. By the time it was diagnosed, it was already at a late stage. The final year of his life was filled with mixed emotions as his body weakened and declined along with his mind. But to the very end, he remained faithful to his beliefs and held onto those things that had always defined him.
I was overwhelmingly sad to see him go. I loved my Dad dearly. Some of the best qualities in me are directly tied to my Dad. My love of nature is unmatched by my peers. My disregard for modern commercialism and pop culture is a gift from my Dad. A love of the beauty of life itself I owe to my parents.
When I was a small boy, my Dad would always come into my room at night to tuck me in and remind me to count my blessings. He taught me that there are always things to be thankful for. It was a lesson that skewed my entire life in a good way; so many people I've observed in life seem to be malcontent and unfulfilled. Because of my Dad, I've never spent a bored moment in life and have always known how lucky I am.
Thank you Dad. I am forever proud of you and will always love you.