Traditional Hindu Wedding
I recently had the honor of being hired to photograph a traditional Hindu wedding at the Bharatiya Hindu Temple north of Columbus, Ohio on May 21, 2005.
I did not really know what to expect. I refrained from bringing my laptop computer because I did not know if it would be proper—only to find, on arrival, that someone had a laptop on the temple floor connected to a video camera and the internet, broadcasting the event live to friends and family back in India. The temple itself, too, had a computer; and it seemed that the majority of the people present has digital cameras, video cameras and cell phones. As such, I learned that the Hindus I was involved with were very laid-back.
The first thing that I noticed while photographing the event was the differences this wedding had with traditional Christian weddings. Whereas the Christian wedding is usually very "stiff" and everyone has a segregated place, the Hindu wedding seemed to be much more inclusive for the audience. The family atmosphere was much more prevalent than in weddings I am accustomed to. Throughout the entire ceremony, friends and family approached the bride and groom without fear that they were interrupting. I did not notice any point where conversation was taboo—all could speak when and as they wished. Children roamed without consequence.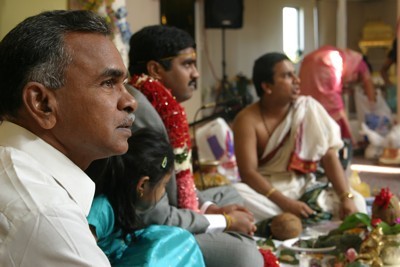 I did enjoy the ceremony as a unique experience. I did, however, make the mistake of walking into the temple at one point with shoes on—something that you are not supposed to do. I also neglected to realize a key moment in the ceremony—when the priest was "tying the knot" (quite literally tying the bride and groom's apparel together) I thought he was simply adjusting their clothing—and I missed this key moment. Luckily, I captured most of the moments of the wedding, which lasted several hours.
The family graciously invited me to eat some traditional Indian food, which I quite liked. I also found everyone to be friendly, courteous and open. Afterwards, when talking to the groom's uncle, I learned that I was not the only one present who did not understand the chanting of the priest—he said that for the most part, no one knew what the priest had been chanting.
Wedding Photography by Shawn Olson.

Traditional Hindu Wedding