Copy and Paste Object Properties in 3ds Max
Last Updated
Nov 19, 2014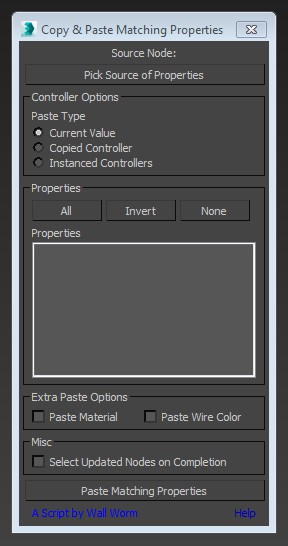 This is a MAXScript to copy and paste properties from one object to an arbitrary set of objects inside 3ds Max.
Overview
With this script, you pick an object in the scene as the property source. You then select objects in the scene to which you wish to transfer properties. You can choose which properties to use, as well as wether the values are copies of the current value or use the controller of the original object's values (to transfer animated values, etc).
Running the Script
Download and Unzip Copy and Paste Properties MAXScript.
In 3ds Max, click MAXScript > Run Script and browse for the file paste_properties.ms.
Using Copy & Paste
Click the Pick Source of Properties pickbutton.
Select the Source node in the scene.
Choose the Controller options.
Select what properties will transfer.
Optionally choose to transfer the Material or wire color from the source node to the selected nodes.
Click the Paste Matching properties button.
What Properties are Updated?
Only those properties that share the same name and the same value type will be transfered to the target nodes.